Continental Village Pool is Closed for the Season
The Pool Hours 
Monday – Sunday  1:00 p.m. to 7:00 p.m.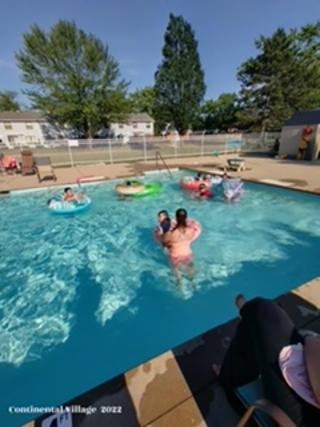 Children under the age of 16 (born after 2005) are not permitted at the pool with out a parent or guardian.
Every Person Entering the Pool MUST have a Valid Pool Pass.
NO Entry without Lifeguard on Duty.
NO Pets.
NO Bikes, Skateboards, Roller Blades, etc.
NO Running.
NO Smoking.
NO Spitting.
NO Alcoholic Beverages.
NO Food on Deck Area.
NO Diving, Flipping, or Rough Housing.
NO Hanging, Tugging, Standing, or Playing on Ropes.
NO Squirt Guns.
NO Swearing, Name Calling or Rudeness (No Drama Zone).
Beverages only allowed in Plastic Containers.
Infants must be in a Little Swimmer or Cloth Diapers & Plastic Pants.
Proper Swim Attire must be worn at all times (No Street Clothes).
Swimmers Must Shower before Entering Pool.
Children Under 16 are not admitted without their parent or a guardian 18 years or older with a valid pool pass and must remain at the pool in the swimming area as long as the child is there.
Guests must be accompanied by homeowner/renter AND remain with guest.
Flotation Devices/Toys as Permitted by the Lifeguard on Duty.
Decisions and Actions of the Lifeguard on Duty are Final.
Failure to follow these rules will result in suspension or revocation of all pool privileges
CONTINENTAL VILLAGE
---
Continental Village Owners Association, located in Waukegan, Illinois, strives to enhance and preserve the quality of life and sense of community of our tenants and owners.
CONTACT INFO
---
(847) 224-9829
cvoa@att.net
4177 Continental Drive
Waukegan, IL 60087
OFFICE HOURS
Monday  8:00 a.m. to 2:00 p.m.
Tuesday  Closed
Wednes  8:00 a.m. to 2:00 p.m.
Thursday  Closed
Friday  8:00 a.m. to 2:00 p.m.
Saturday  9:00 a.m. to 3:00 p.m.
Sunday   Closed
2022 Back to School Bash in the Park
7-30-22    Party starts at 2:00 p.m.